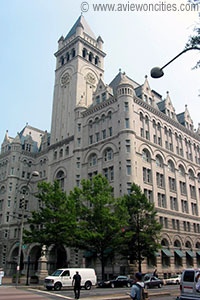 City
Washington
Country
United States
Year
1899
Height
96,0m
315ft
Realization
Architect:

Willoughby J. Edbrooke
Building Info
Category:

Hotel

Alias:

Post Office building
Nancy Hanks Center

Materials:

granite
steel

Height:

96,0m / 315ft

Floors:

12
Notes
Constructed as a combined United States Postal Department and District Post Office building.
It was the first steel-frame building constructed in Washington
Designated a National Historic Landmark in 1973.
The building was saved from demolition in 1934 due to lack of money during the Great Depression and it was saved again in 1973 after Nancy Hanks reversed a decision to raze the building.
Read more about the Old Post Office