The Cité des Sciences et de l'Industrie is a popular science museum that focuses on interactive experiences. The museum is housed in an enormous hi-tech building that occupies the northern part of the
Parc de la Villette
, a park in the 19th arrondissement.
Book your Skip the Line ticket here
From Slaughterhouse to Museum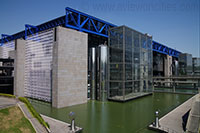 Cité des Sciences et de l'Industrie
In the 1980s the enormous slaughterhouse complex of La Villette was reconverted into a large park home to a number of large buildings dedicated to science, arts and music. The star attraction of the park is the Cité des Sciences et de l'Industrie, a large science museum that attracts millions of visitors each year.

The largest building on the slaughterhouse site was the auction hall, a huge hall with a surface of about 100,000 square meters (1.1 million sq ft). In 1985-1986 the hall was converted into a modern museum by the French architect Adrien Fainsilber.

The steel and glass building looks like a futuristic fortress, surrounded by a moat, thirteen meters (42 ft) below ground level. Unlike a real fortress the building is light and airy inside thanks to the glass facade and skylights.
The Museum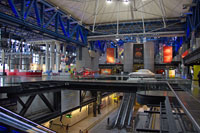 Museum interior
The Cité des Sciences et de l'Industrie bills itself as a "different kind of museum". Unlike more traditional museums, you won't find many information cards with detailed information about the history of an item. It's all about the experience here and visitors are expected to experiment themselves with computerized interactive exhibits.

Despite its dimensions the building is fairly easy to navigate. Level -2 is home to an aquarium and gives access to the hemispherical theatre. Level -1 houses a multimedia library covering all fields of science, technology and industry. Level 0 is home to the Cité des Enfants, with exhibitions and activities for children aged 2-12. On level 1 you find Explora, where you'll find most of the museum's permanent exhibits. On the top floor you'll find the Planetarium and a number of temporary exhibitions. Most everything in the museum is presented in both French and English and many of the interactive displays support even more languages.
Cité des Enfants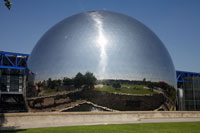 Géode
The Cité des Enfants on the ground floor is designed specifically for kids. The activities are divided into age groups (2-7 and 5-12). The youngest ones can play discovery games while the older children can take part in over one hundred activities organized around six themes. There is also a video game exhibition for children aged 9 or over where they can learn about gameplay and avatars.
Explora
Explora contains the museum's main exhibitions and as its name implies is all about exploring the world we live in. Here you can learn about how we create efficient transportation and how we satisfy our needs for energy. You can find out how evolution and genetics work, discover man's progress in its conquest of space, listen to a variety of sounds, and see applications of mathematics. Many of the exhibits are interactive; in 'sounds' for instance, you can guess what animal makes a particular sound.
Géode
Outside is the Géode, a eye-catching landmark with a steel cladding that reflects its surroundings. The spherical building with a diameter of 35 meters (115 ft) seems to float in the 'moat'.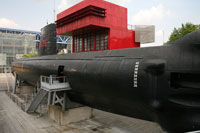 Argonaute
Access to the Geode is from inside the museum on level -2. In the sphere is a hemispherical cinema where you can watch 3D or Imax movies.
Argonaute
Also outside but accessible from the museum's ground level is the Argonaute, a real submarine from 1957 which was taken out of commission in 1982. Here you get an idea of life aboard a submarine and you can even look around the park through the periscope.