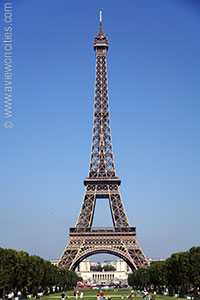 City
Paris
Country
France
Year
1887 - 1889
Height
300,0m
984ft
Building Info
Alias:

Tour Eiffel

Materials:

wrought iron

Height:

300,0m / 984ft
Notes
Tallest structure in the world from 1889 until 1930 when it was eclipsed by the Chrysler Building in New York City.
The total height including the radio antennas at the top is 324m.
Built for the 1889 International Exhibition, Paris, the centenary celebration of the French Revolution.
1652 Steps take you to the third level.
The total weight of the structure is 10100 ton.
Read more about the Eiffel Tower